LME aluminium opened at US$2,621 per tonne on Wednesday and closed at US$2,648 per tonne, an increase of US$23 per tonne or 0.88 percent.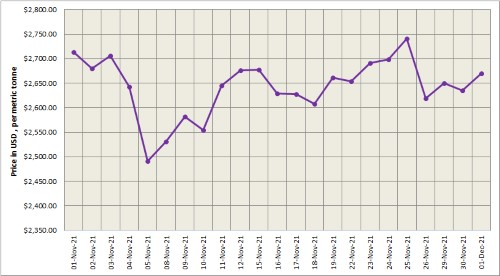 On Wednesday, December 1, both LME aluminium cash (bid) price and LME aluminium official settlement price surged by US$34.5 per tonne or by 1.30 percent to total at US$2,669 per tonne and US$2,669.50 per tonne. 3-month bid price and 3-month offer price stood at US$2,646 per tonne and US$2,646.50 per tonne. December 22 bid price and December 22 offer price closed at US$2,633 per tonne and US$2,638 per tonne.
LME aluminium opening stock was recorded at 893775 tonnes, as of December 1. Live warrants for the same day stood at 576325 tonnes, while cancelled warrant totalled at 317450 tonnes.
LME aluminium 3-month Asian Reference Price moved up by US$17.94 per tonne to close at US$2641.50 per tonne.
SHFE Aluminium Price Trend
On Thursday, December 2, the benchmark aluminium price for SHFE shrunk by US$8 per tonne to score at US$2,969 per tonne.
The most-traded SHFE 2201 aluminium closed up 0.66 percent or RMB 125 per tonne to RMB 19120 per tonne, with open interest down 7821 lots to 195647 lots.
Overnight, the most-traded SHFE 2201 aluminium contract opened at RMB 19,120 per tonne, with the highest and lowest prices at RMB 19,185 per tonne and RMB 18,725 per tonne before closing at RMB 18,925 per tonne, down RMB 195 per tonne or 1.02 percent.
Previous Page:LME aluminium price descends by US$49.5/t to close at US$2,628.50/t; SHFE price plummets by US$98/t
Next Page:A00 aluminium ingot price in China stands above RMB20,000/t; Aluminium alloy(A356) price surges by RMB200/t